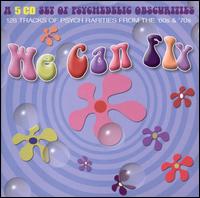 Various Artists – We Can Fly: A 5 CD Set Of Psychedelic Obscurities (2008)
Release Date: May 5, 2008
Label: Psychic Circle
Catalog Number: PSYCHBOX1
Liner Notes: Richard Morton Jack
Mastering: Dave Blackman
Producers: Steven Carr & Jude Holmes
Sleeve Design: Bigkick! Creations Ltd.
This is a numbered to 1000, limited repressing of the legendary We Can Fly series in a five CD boxed set. Amongst the best psych and beat compilations ever put together, each volume is a mind-blowing treasure trove of mod, beat, acid rock and pop from the 1960s, and comes housed inside a slipcase card replica of its original artwork. Complete for the first time with a detailed booklet, featuring updated band histories, rare photographs and full discographies, the series is a byword for the best in swinging psychedelia. Featuring familiar names such as The Smoke, Shocking Blue and Eire Apparent alongside obscure heroes such as The Mickey Finn, Cherry Smash and the Gnomes of Zurich, each volume has been compiled and sequenced by the legendary psych musician and Psychic Circle label-head, Nick Saloman.
"The five-volume We Can Fly series presented rare psychedelic rock spanning the mid-'60s to the early '70s, mostly centering on U.K. psych of the late '60s, though there's a little spillover from both the British Invasion and early prog rock eras. It's not all from the U.K., either, with a good number of entries from Continental Europe, as well as stray items from Australia, New Zealand, the U.S., and even Lebanon. This mini-sized box set compiles all five volumes, and while some of the 128 tracks have done the rounds on well-circulated compilations outside of this series, there can't be many collectors who would have all of them in one place before buying this anthology." (AMG Review by Richie Unterberger, excerpt)
Various Artists – We Can Fly: A 5 CD Set Of Psychedelic Obscurities (2008)