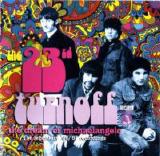 23rd Turnoff - The Dream Of Michelangelo (2004)nbe
23rd Turnoff - The Dream Of Michelangelo (2004)

With beginnings going back to the 1950s, this Liverpool group evolved through the Merseybeat era into being known as The Kirkbys. The band was formed by Jimmy Campbell.

"Campbell started in music at school, forming the band The Panthers. They supported The Beatles in January 1962. The band performed at The Cavern on numerous occasions, and one show, broadcast on Radio Luxembourg, saw them introduced as The Kirkbys, the presenter confusing their name with their home town. The name stuck, and the group released a single, "It's A Crime", in 1966, at the tail end of the merseybeat era.

Campbell moved on from the mersey sound to the newly evolving psychedelic scene, renaming the band to The 23rd Turnoff. The name was taken from the motorway sign indicating the nearby M6 exit.[2] Here he found his Liverpool roots placed him at a disadvantage, with the scene establishing itself in London.[3] Described by Bob Stanley of The Times as "the era's lost songwriter", Campbell wrote a number of songs recorded by other artists. Cliff Richard, Billy Fury, The Swinging Blue Jeans and Rolf Harris all covered songs of Campbell's. Although Campbell did not achieve acclaim in the 60s and 70s, his work later came to be well regarded, with Will Sergeant naming Campbell's single "Michael Angelo", recorded with 23rd Turnoff among his top ten psychedelic records." ~ Wikipedia

This complete collection of sought after material includes highly collectable singles. Several tracks featured have been before been reissued but the most of them are previously unreleased. For all fans of beat, pop psych and 60s music.


Tracklist:
1. 'Cos My Baby's Gone
2. Don't You Want Me No More [Version]
3. Don't You Want Me No More [#]
4. She'll Get No Lovin' That Way [Version]
5. Bless You [Version]
6. Bless You [#]
7. It's a Crime
8. I've Never Been So Much in Love
9. Dreaming [#]
10. Flowers Are Flowering [#]
11. (Not) A Penny in My Pocket [#]
12. I'll Be 'Round [#]
13. Michaelangelo [#][Demo Version][Version]
14. Another Vincent Van Gogh [#]
15. Mother's Boy [#]
16. I'll Be with You [#]
17. You Sing Your Own Song [#]
18. Michaelangelo [#][Demo Version][Version]
19. (Not) A Penny in My Pocket [#][Version]
20. Leave Me Here
21. Michael Angelo