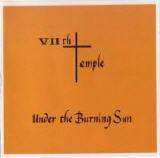 7th Temple - Under The Burning Sun (1978)
7th Temple - Under The Burning Sun (1978)

The label says: "Over the last 18 months we at Radioactive have reissued some of the rarest private pressings in existence. Albums by Summer Sounds (500), Fraction (200) and Totty (50) were all extremely limited, but these are huge numbers when compared with our latest release, Under The Burning Sun by Canadian prog rockers VIIth Temple. If obscure albums were steak, they couldn't come any rarer than this!
A copy of Under The Burning Sun recently sold on ebay, and the vendor's comments really sum it up:
'This is the last of seven known copies!!! I've never had the pleasure of hearing this as I don't want to be the one to break the seal. This is the second copy I've had as I know the person who found all seven and that copy went on ebay for $600." To the best of our knowledge, 15 copies of this 1978 private pressing were actually produced which suggests that fewer than 50 people have ever heard this album.
A select group indeed. And more remarkably, this is a great recording, full of prog keyboards, synths and guitars. The lyrics are dark and mystical, and there's a brooding, ethereal feel to proceedings. At only just over 18 minutes the album's a tad on the short side, but what we do get to hear leaves the listener yearning for more. An obscure rarity and a musical gem rolled into one. Highly recommended.'"
Tracklist:

1. Under The Burning Sun
2. See The Light
3. The Sky Is My Friend