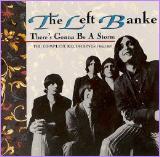 The Left Banke - There's Gonna Be A Storm (1992)

The Left Banke - There's Gonna Be A Storm (1992)

Richie Unterberger/allmusic.com
Though it's missing a few rarities -- namely the Steve Martin single for Buddha that reunited him with Michael Brown -- this is the most definitive Left Banke compilation. It features the entirety of their two late-'60s albums, as well as a couple of singles that didn't make it onto LPs at the time (though they later appeared on Rhino's History) and a previously unissued cut, "Men Are Building Sand." Their debut 1967 LP, Walk Away Renee/Pretty Ballerina, is an underrated classic of the time, matching smart harmonies and pop hooks to baroque orchestration. Its brilliance casts a bit of a shadow over the rest of this collection. The group's 1968 album Too suffered from bloated production and, more importantly, the absence of chief songwriter/arranger Michael Brown. In turn, the 1967 single Brown cut under the Left Banke moniker with singer Bert Sommer suffers from the absence of lead vocalist Steve Martin. By the time Brown and Martin tenuously reunited for a late-1969 single, some of the spark had gone. All of the aforementioned highs and lows of this prodigiously talented but strife-ridden group are on this disc.

Richie Unterberger/allmusic.com
band bio
This New York group pioneered "Baroque'n'Roll" in the '60s with their mix of pop/rock and grand, quasi-classical arrangements and melodies. Featuring teenage prodigy Michael Brown as keyboardist and chief songwriter, the group scored two quick hits with "Walk Away Renee" (number five) and "Pretty Ballerina (number 15). Chamber-like string arrangements, Steve Martin's soaring, near-falsetto lead vocals, and tight harmonies that borrowed from British Invasion bands like the Beatles and the Zombies were also key elements of the Left Banke sound. Though their two hits are their only well-remembered efforts, their debut album (Walk Away Renee/Pretty Ballerina) was a strong, near-classic work that matched the quality of their hit singles in songwriting and production.

The group's internal dynamic wasn't nearly as harmonious as their sound, and their history goes some way towards explaining their short career. Initially, the group made some recordings that were produced by Brown's father, Harry Lookofsky. When these recordings failed to interest companies in signing the band, the Left Banke broke up, Brown moving to California with the group's original drummer. A backing track for "Walk Away Renee" had already been completed, and the other members overdubbed vocals in Brown's absence. The song was released on Smash and became a hit, and the musicians reunited to tour and continue recording.

Unfortunately, the group, which showed such tremendous promise, was quickly torn asunder by dissension. Due to the nature of their music (which often employed session musicians), the Left Banke's sound was difficult to reproduce on the road, and one could sympathize with Brown's wishes to become a Brian Wilson-like figure, concentrating on writing and recording while the rest of the musicians took to the road. A variety of guitarists, as both session musicians and ostensible group members, flitted in and out of the lineup; Rick Brand, credited as the guitarist on the first LP, actually plays on only one of the album's songs. Adding fuel to the fire, Brown's bandmates wanted to oust Brown's father as the act's manager. In early 1967, Brown went as far as to record a Left Banke single without them, using vocalist Bert Sommer.

That single ("And Suddenly") flopped, and for a brief time in September 1967 the original members were recording together again. After just one single ("Desiree"), though, Brown left for good. Most of the group's second and final album, The Left Banke Too, was recorded without him. While it still sported baroque arrangements and contained some fine moments, Brown's presence was sorely missed, and the record pales in comparison to their debut. Brown went on to form a Left Banke-styled group, Montage, which released a fine and underappreciated album in the late '60s. He later teamed up to form Stories with vocalist Ian Lloyd.

There were some confusing son-of-Left Banke recordings over the next few years, although the band really came to a halt in 1969, after the second album. Brown, Martin, and unknown musicians made a few recordings in late 1969; then, oddly, the original group reformed for a fine early 1971 single on Buddah ("Love Songs in the Night"/"Two by Two"), although the record itself was credited to Steve Martin. And the original group, minus its key visionary Michael Brown, made an album's worth of ill-advised reunion recordings in 1978.


Tracklist:
1. Walk Away Renee 2:42
2. I Haven't Got The Nerve 2:12
3. Pretty Ballerina 2:38
4. She May Call You Up Tonight 2:18
5. I've Got Something On My Mind 2:49
6. Barterers And Their Wives 3:20
7. Let Go Of You Girl 2:53
8. What Do You Know 3:03
9. Evening Gown 1:47
10. Lazy Day 2:25
11. Shadows Breaking Over My Head 2:37
12. Ivy Ivy 3:13
13. Men Are Building Sand 2:21
14. Desiree 2:44
15. Dark Is The Bark 3:31
16. My Friend Today 3:04
17. Sing Little Bird Sing 3:11
18. And Suddenly 2:07
19. Goodbye Holly 2:57
20. In The Morning Light 2:52
21. Bryant Hotel 3:26
22. Give The Man A Hand 2:34
23. Nice To See You 2:43
24. There's Gonna Be A Storm 4:18
25. Pedestal 3:47
26. Myrah 3:21