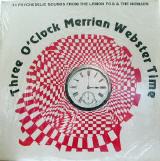 The Lemon Fog & The Nomads - Three O'Clock Merrian

The Lemon Fog & The Nomads - Three O'Clock Merrian Webster Time (1983)

Two of the finest band to emerge from the Houston Psychedelic scene were The Lemon Fog and The Nomads. Both groups were signed by Orbit Records, wich had other noteworthy bands of the time such as The Cicadelics, The Laughing King, The Rebeliers and The Sterling Castle.

The Lemon Fog were pioneers of a sound that merged punk and psychedelia into a newly integrated minfblowing potpourri of music. The lyrics refelected youth's alienation and search for something other than the American dream. A search beyond the normal dimensions of logic and time into the realm of the unknown.

The Lemon Fog will astound listeners with a fresh and marvelous sound of a bygone era when it was cool to take chances and experiment with the newly emerging psychedelic underground music. Although the group broke up in 1969 their music on this album will certainly keep them in mind for many years to come. They appeared in 1967 on Larry Kane's TV show doing "Echoes of time" and ·The Living Eye Theme".

The Nomads were a bizarre psychedelic outfit that specialized in strange LSD laced lyrics. Starting out as a Byrds-Love-Folk Rock outfit they evolved intoa unique sounding group. The selection on this album reflect this transition. Theis las recorded effort was in Dec. 1968, when they generated into an outfit known as The Smoke, basically a hard rocking blues band. The group members would be listed but unfornunately such information was lost.


The Lemon Fog

01 - Summer (Released April 1968 Orbit #1123/A)
02 - Echoes of a time (Released November 1967 Orbit #1117/B)
03 - Day by day (Released December 1968 Orbit #1127/A)
04 - The prisoner (Released December 1968 Orbit #1127/B)
05 - Yes I cry (Previously unreleased 1968 Outtake)
06 - Girl from the wrong side of town (Released April 1968 Orbit #1123/B)
07 - The Living Eye theme (Released November 1967 Orbit #1117/A)

The Nomads

08 - My little red book (Previously unreleased 1967 Outtake)
09 - Situations (Released March 1968 Orbit #1121/B)
10 - Three o'clock merrian webster time (Released March 1968 Orbit #1121/A)
11 - Mainstream (Released November 1968 Orbit #1126/B (as The Smoke))
12 - New generation (Previously unreleased 1967 Outtake)
13 - I walk alone (Released 1967 Damon #101/A)
14 - I'll be there I walk alone (Released 1967 Damon #101/B)