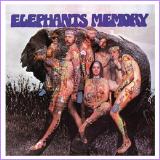 Elephant's Memory - Elephant's Memory (1969)

Elephant's Memory - Elephant's Memory (1969)

That this band's founders (saxophonist Stan Bronstein and drummer/vocalist Rick Frank) met on the strip joint circuit is too perfect, for if one thing was consistent about Elephant's Memory's career through numerous line-up and label changes, it was their flair for the outrageous, culminating in their backing of John Lennon on 'Some Time in New York City' and Yoko on 'Approximately Infinite Universe'. This, however, is their first record, made in 1969 when they were gaining a reputation for wildly theatrical, Zappa-esque stage shows; a unique blend of psychedelia, wistful balladery, jazz and hard rock, this album also landed two songs on the 'Midnight Cowboy' soundtrack, 'Old Man Willow' and 'Jungle Gym at the Zoo'. In short, a very late '60s New York experience awaits you on this 'Collectors' Choice Music' exclusive! Includes 'Band of Love; Brief Encounter; Crossroads of the Stepping Stones; Don't Put Me on Trial No More; Hot Dog Man; Jungle Gym at the Zoo; R.I! .P.; Super Heep; Takin' a Walk', and 'Yogurt Song'.