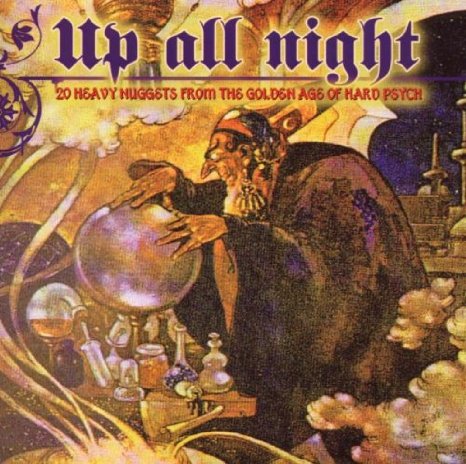 Various Artists – Up All Night – 20 Heavy Nuggets From The Golden Age Of Hard Psych (2009)
If rocking's your schtick, and you prefer an atypically sleazy form of it a la a 70s bellbottom, cocaine sniffing sort of way then boy is this for you. If not, well, go the fuck back out west and take it easy I suppose. This collection, put out by the capable hands of bin diggers over at Past & Present, pulls twenty psych greats that essentially fall somewhere in between the hypnotic stoned levels of the Doors and the dark slaying of Black Sabbath. None of them seem to have done much, but from the evidence herein there seems little reason other than pure bad luck. Of course any questions as to their whereabouts are swiftly resolved in the extensive liner notes, which provide mini biographies of each act.
So where do the highlights lie? Well it really depends on your steez I suppose—Highway Robbery's "Fifteen," torn apart by Rolling Stone in 1972, sounds like a crossbreed between King Crimson and the Sex Pistols, sliding between styles within seconds with propulsive energy and snotty attitude. The Damnation of Adam Blessing, who opened for the Stooges and the Faces, present the loping groove of "Driver," a pummeling number that keeps it garage-y and epic all at once. Dragonfly's "Enjoy Yourself" presents some serious guitar twang intermixed with a proto metal violence. Wild stuff. Especially Haystacks Balboa's "The Children of Heaven," a totally schizophrenic proggy number that's like little else to my ear.
Totally a certain thing, but if you're into the thing you could do worse. Especially well suited to cruises around the street on summer nights, beer in hand. (Henry Smith, Digitalindustries.com)
1. Liquid Smoke – Warm Touch
2. Tin House – Be Good And Be Kind
3. The Litter – Journeys
4. The Finchley Boys – Outcast
5. Highway Robbery – Fifteen
6. Euclid – Gimme Some Lovin'
7. Damnation Of Adam Blessing – Driver
8. SRC – Up All Night
9. Bang – The Queen
10. Dragonfly – Enjoy Yourself
11. Granicius – You're In America
12. Steeplechase – Wrought Iron Man
13. Sir Lord Baltimore – Kingdom Come
14. Jamul – All You Have Left Is Me
15. Power Of Zeus – In The Night
16. Haystack Balboa – The Children Of Heaven
17. Third Power – Gettin' Together
18. Yesterday's Children – Providence Bummer
19. Head Over Heels – Road Runner
20. Landslide – Sad And Lonely
Up All Night: 20 Heavy Nuggets from Golden Age of Hard Rock